Meet The Owners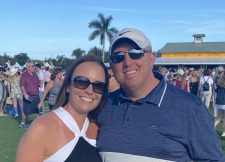 Chris Haluch, the founder of Haluch's Landscapes, grew up in the Landscape and Tree Care industry with a family owned and operated business. Chris worked for his father Ed, the owner of Ed's Tree Service, all through high school and college. He found that he wanted to be more creative with customer's outdoor living spaces, so he started a small landscaping company in 1997. Chris started with maintenance of residential and commercial properties. After a couple of years, the Landscape Design portion of the company grew and became a big portion of the business. As the design portion continued to grow, the need for him to provide both lawn sprinkler installations and service became a necessity. In the spring of 2003, he decided to team up with Aqua Flow Lawn Sprinklers and now provides lawn sprinkler services to over 1,000 customers both commercial and residential. In 2010 he added Fertilizer programs to Haluch's list of services. Starting last year, Chris added the installation of the Autobugg to lawn sprinkle systems and developed an All Natural Bug Spray that is good for humans and pets! (Including horses)
Kelly Haluch has been working with horses for over 25 years. Her passion for the animal started at a very young age and has continued to grow. She started showing in hunters as a teenager and enjoyed a lot of success during that time of her life. Kelly and her OTTB rescue, Krew, have competed successfully through novice level eventing. Within the past year, they have both realized their love for the jumpers and look forward to the upcoming show season! They have also enjoyed going to clinics for stadium jumping, cross country and dressage to continue to add to their knowledge and improve as a team. Kelly recently adopted a 3 year old OTTB mare that she plans on training to do the jumpers with as well.
While Kelly has enjoyed her time in the saddle, she has also found that helping others grow and learn is very important to her. Through the years she has loved working with students to help them progress in their knowledge and skills. She feels that it is important to constantly be learning, not only with riding a horse, but to have the proper understanding of the horses needs to insure they are always happy and healthy.
Chris and Kelly's combined knowledge of equine training and care, as well as building and grounds maintenance, make them the perfect team to successfully create a state of the art equestrian facility that prides itself on attention to detail and the absolute care and well-being of the horse.
---