Boarding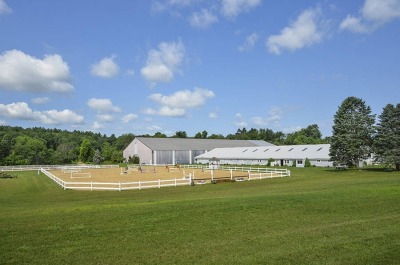 Shallowbrook Equestrian Center is situated on a beautiful 50-acre property located at 247 Hall Hill Rd Somers, CT. The facility provides unsurpassed accommodations with 2 large indoor arenas that are directly accessible from the barn, multiple outside riding arenas, a large grass polo field to ride in and ample turnout paddocks.

Permanent, matted box stalls are available for year-round boarding, and clients have access to a large tack room, grooming/wash stalls, multiple storage areas, and a heated/air-conditioned observation lounge with Wi-Fi access. Trainers and caretakers live onsite providing 24 hour security and horse care. With its immaculately manicured landscaping and beautiful surroundings, Shallowbrook Equestrian Center offers its customers an unparalleled equestrian experience.
Amenities
120 x 226 Indoor Arena (GGT Footing)
60 x 180 Indoor Arena
Heated Viewing Room & Trainers Office
2 Outdoor Sand Rings 120 x 200
Large Outdoor Grass Field
Full Set of Jumps To Be Used
Dressage Arena To Be Used
Indoor/Outdoor Wash Stalls
Hot Water in Indoor Wash Stall
Ample Turnout (Individual or Group)
10 x 12 Stalls in Barn A
11 x 12 Stalls in Barn B
12 x 12 Stalls in Barn C
HayGain For Horses (Extra Fee)
Theraplate For Horses (Extra Fee)
Nest Smoke System Installed In All Barns
Board Fee Includes:
One stall per horse with bedding.
Daily turnout as permitted by weather.
Stall cleaning daily.
AM & PM Grain.
Hay fed 3x daily.
Supplements administered if supplied. If feeding more than one supplement, they must be combined and put in tupperware containers.
Application of fly spray if supplied by owner, turn out boots as needed.
Use of all arenas.